Preview for Service of Word and Sacrament, December 5, 2021
The Second Sunday in Advent
Liturgical Color: Blue

Westminster Presbyterian Church, Tiburon, California
Visit the church website: www.wpctiburon.org,
415-383-5272
240 Tiburon Boulevard, Tiburon, California 94920
This weekly study guide seeks to help members, friends, and visitors prepare for the upcoming Sunday service and teaching.
Questions about worship can be directed to the church office at: 415.383-5272, ext. 1 or .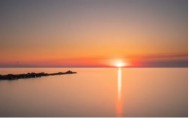 Call to Worship
One: Christ is coming.
Many: Let us be quiet that we might hear the news.
One: Christ is coming.
Many: Let us be still that we might detect the movement.
One: Christ is coming.
Many: Let us be centered that we might know how to join in.
One: Today we light the candle of peace. Peace is the recognition of, and reverence for, our interrelation.

Community Prayer
God, we are so quick to speak, eager to act, convinced we need to make our mark on every situation, that we fail to truly perceive what is at work. Forgive us for thinking we must spin the world in every moment. Allow us to accept the invitation to slow down, quiet down, calm down, that we might be more attentive to what the Spirit is doing and calling us to do and be. Let us find blessing and silence this noisiest of times of year. Amen.

Sermon Focus & Title Curse or Gift Robert McClellan
Sometimes we need to be given the gift of silence, calm, stillness, so we can recognize what's going on, what God is up to, and what the Spirit is inviting us into. In today's gospel reading, Zechariah is silence because he cannot believe what God is doing, and he is stricken with the inability to speak until the events unfold. We often read that passage as punitive, but we can choose to read what is given to Zechariah as a gift. Perhaps what many of us need in Advent is that gift of silence, stillness, calm, awareness that we might recognize what's going on here and now.

Scripture(s)
Luke 1: 1-20

1Since many have undertaken to set down an orderly account of the events that have been fulfilled among us, 2just as they were handed on to us by those who from the beginning were eyewitnesses and servants of the word, 3I too decided, after investigating everything carefully from the very first, to write an orderly account for you, most excellent Theophilus, 4so that you may know the truth concerning the things about which you have been instructed.
5 In the days of King Herod of Judea, there was a priest named Zechariah, who belonged to the priestly order of Abijah. His wife was a descendant of Aaron, and her name was Elizabeth. 6Both of them were righteous before God, living blamelessly according to all the commandments and regulations of the Lord. 7But they had no children, because Elizabeth was barren, and both were getting on in years.
8 Once when he was serving as priest before God and his section was on duty, 9he was chosen by lot, according to the custom of the priesthood, to enter the sanctuary of the Lord and offer incense. 10Now at the time of the incense-offering, the whole assembly of the people was praying outside. 11Then there appeared to him an angel of the Lord, standing at the right side of the altar of incense.12When Zechariah saw him, he was terrified; and fear overwhelmed him. 13But the angel said to him, 'Do not be afraid, Zechariah, for your prayer has been heard. Your wife Elizabeth will bear you a son, and you will name him John. 14You will have joy and gladness, and many will rejoice at his birth, 15for he will be great in the sight of the Lord. He must never drink wine or strong drink; even before his birth he will be filled with the Holy Spirit. 16He will turn many of the people of Israel to the Lord their God. 17With the spirit and power of Elijah he will go before him, to turn the hearts of parents to their children, and the disobedient to the wisdom of the righteous, to make ready a people prepared for the Lord.' 18Zechariah said to the angel, 'How will I know that this is so? For I am an old man, and my wife is getting on in years.' 19The angel replied, 'I am Gabriel. I stand in the presence of God, and I have been sent to speak to you and to bring you this good news. 20But now, because you did not believe my words, which will be fulfilled in their time, you will become mute, unable to speak, until the day these things occur.'

Hymns

Awake! Awake, and Greet the New Morn 107
Blest Be the God of Israel 109

Quotes, Questions & Prompts for Reflection, Discussion, and Prayer

"During Advent, we occupy our greatest longings."
~ Ruth Haley Barton
What does our culture's preference for busyness, productivity, and activity say about us spiritually?
What practices do (or could) help you slow down?
What do you notice when you are able to quiet your being?
Who do you know that seems particularly grounded? What allows them to be this way? (If you don't know, ask them!)
Begin a simple journal or daily practice between now and Christmas in which you simply list what you notice each day? Don't overthink it; just do it.