Preview for Service of Word and Sacrament, November 1, 2020
All Saints Day
Celebration of the Lord's Supper
Liturgical Color: White
Westminster Presbyterian Church, Tiburon, California

This weekly study guide seeks to help us prepare for the upcoming Sunday service and teaching.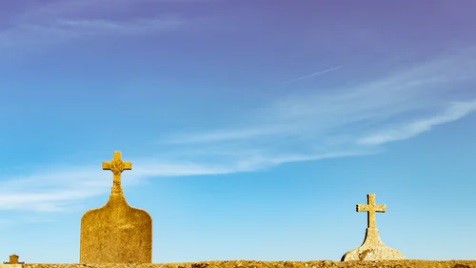 Please Note –
This Sunday, we will not worship in person. However, we will live-stream worship on our Facebook page (Westminster Pres-Tiburon) on Sunday at 10:00am. We will have a video of worship available on our YouTube channel (https://www.youtube.com/channel/UCI7AuMKsXWJTserXPjBjPDw) by Monday.
Community Prayer
Gracious God, we gather in the trust of your everlasting care. We carry into worship the memory of those we have lost in our lives, and all the emotions that come with our recollection. We may bring gratitude, fondness, disappointment, or lasting wounds. Perhaps most of all, we bring hope of your eternal life and healing that transcends this temporal existence. Forgive us if we have not lived all our days well. Release us from burdening guilt. Set us free to fully live the present that is here for us right now. Amen.
Sermon Focus & Title All Saints Day Commemoration Robert McClellan
This is the Sunday when we remember those who have died in the past year. We name them and honor the impact they had on our lives. We slow down. This year, in particular, with all the loss and pain, we pay particular attention to the impact of the global pandemic. We pause in prayer.
Scripture(s)
First Reading
Revelation 7:9-17
9After this I looked, and there was a great multitude that no one could count, from every nation, from all tribes and peoples and languages, standing before the throne and before the Lamb, robed in white, with palm branches in their hands. 10They cried out in a loud voice, saying,
"Salvation belongs to our God who is seated on the throne, and to the Lamb!"
11And all the angels stood around the throne and around the elders and the four living creatures, and they fell on their faces before the throne and worshiped God, 12singing,
"Amen! Blessing and glory and wisdom
and thanksgiving and honor
and power and might
be to our God forever and ever! Amen."
13Then one of the elders addressed me, saying, "Who are these, robed in white, and where have they come from?" 14I said to him, "Sir, you are the one that knows." Then he said to me, "These are they who have come out of the great ordeal; they have washed their robes and made them white in the blood of the Lamb.
15 For this reason they are before the throne of God,
and worship him day and night within his temple,
and the one who is seated on the throne will shelter them.
16 They will hunger no more, and thirst no more;
the sun will not strike them,
nor any scorching heat;
17 for the Lamb at the center of the throne will be their shepherd,
and he will guide them to springs of the water of life,
and God will wipe away every tear from their eyes."
Second Reading
Gospel Matthew 5:1-12
1When Jesus saw the crowds, he went up the mountain; and after he sat down, his disciples came to him. 2Then he began to speak, and taught them, saying:
3"Blessed are the poor in spirit, for theirs is the kingdom of heaven.
4"Blessed are those who mourn, for they will be comforted.
5"Blessed are the meek, for they will inherit the earth.
6"Blessed are those who hunger and thirst for righteousness, for they will be filled. .
7"Blessed are the merciful, for they will receive mercy.
8"Blessed are the pure in heart, for they will see God.
9"Blessed are the peacemakers, for they will be called children of God.
10"Blessed are those who are persecuted for righteousness' sake, for theirs is the kingdom of heaven.
11"Blessed are you when people revile you and persecute you and utter all kinds of evil against you falsely on my account. 12Rejoice and be glad, for your reward is great in heaven, for in the same way they persecuted the prophets who were before you."
Hymns
Blest Are They No. 172
For All the Saints No. 326
Quotes, Questions & Prompts for Reflection, Discussion, and Prayer
Who are we
to be
with one
another?
and
How are we
to be
with one
another?
and
What to do
with all those memories
of all of those funerals?
and
What about those present
whose past was blasted
far beyond their
future?
I wake.
You wake.
She wakes.
He wakes.
They wake.
We Wake
and take
this troubled beauty forward.

-Padraig O'Tuama from "[the] north[ern] [of] ireland"
1. Who have you lost that has had a lasting impact on you?
2. Where is there need for collective mourning right now?
3. How will you honor the dead today?
4. What is a saint to you?
5. Who is a saint in your life/the life of the world? Have you told them?
6. What about you is saintly?