Preview for Service of Word and Sacrament, August 21, 2022
Ordinary Time
Liturgical Color: Green

Westminster Presbyterian Church, Tiburon, California
Visit the church website: www.wpctiburon.org,
415-383-5272
240 Tiburon Boulevard, Tiburon, California 94920
This weekly study guide seeks to help members, friends, and visitors prepare for the upcoming Sunday service and teaching.
Questions about worship can be directed to the church office at: 415.383-5272, ext. 1 or .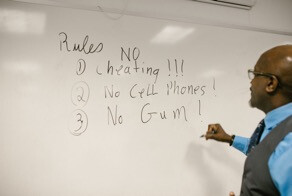 Call to Worship
One: As we gather for worship today,
Many: our lives are in God's care.
One: God has always and will always be with us.
Many: Our spirits are in God's embrace.
One: Let us worship God in hope and peace.
Many: Our hearts are filled with God's incredible love.

Community Prayer
Transforming God, too often we live and worship in ways that make us feel good, rather than honoring you in our words and deeds. Show us the path to faithful living. Teach us how to build beloved and just communities. Help us to do your work in this world. Empower us to plant seeds of love, faith, and hope. May your grace always guide us. Amen.

Sermon Focus & Title Following the Rules Bethany Nelson
I am definitely a rule follower. I don't like to get in trouble. I usually don't even like to test the boundaries. However, this passage from Luke's Gospel shows us that there can be many different ways to follow the rules. What happens when rule following becomes oppressive or unjust? Or when rule following prevents us from acting with love and grace? We will consider how Jesus re-defined being a rule follower.

Scripture(s)
Deuteronomy 5:12-15
Observe the sabbath day and keep it holy, as the Lord your God commanded you. For six days you shall labor and do all your work. But the seventh day is a sabbath to the Lord your God; you shall not do any work—you, or your son or your daughter, or your male or female slave, or your ox or your donkey, or any of your livestock, or the resident alien in your towns, so that your male and female slave may rest as well as you. Remember that you were a slave in the land of Egypt, and the Lord your God brought you out from there with a mighty hand and an outstretched arm; therefore the Lord your God commanded you to keep the sabbath day.
Luke 13:10-17
Now he was teaching in one of the synagogues on the sabbath. And just then there appeared a woman with a spirit that had crippled her for eighteen years. She was bent over and was quite unable to stand up straight. When Jesus saw her, he called her over and said, "Woman, you are set free from your ailment." When he laid his hands on her, immediately she stood up straight and began praising God. But the leader of the synagogue, indignant because Jesus had cured on the sabbath, kept saying to the crowd, "There are six days on which work ought to be done; come on those days and be cured, and not on the sabbath day." But the Lord answered him and said, "You hypocrites! Does not each of you on the sabbath untie his ox or his donkey from the manger, and lead it away to give it water? And ought not this woman, a daughter of Abraham whom Satan bound for eighteen long years, be set free from this bondage on the sabbath day?" When he said this, all his opponents were put to shame; and the entire crowd was rejoicing at all the wonderful things that he was doing.


Hymns

There's a Wideness in God's Mercy, No. 435
Healer of Our Every Ill, No. 795

Quotes,Questions & Prompts for Continued Reflection, Meditation and Prayer
"Law helps order our world, but grace is what holds the world together."
~ David Lose