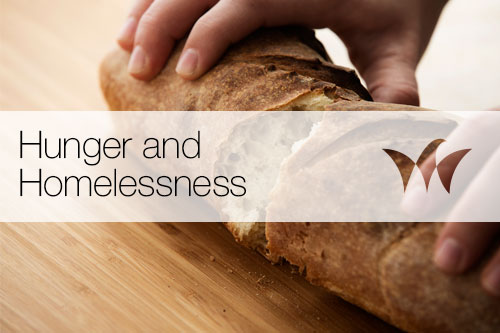 What Is Westminster Doing?
What Is Happening in Marin Now
St. Vincent de Paul Society, Homeward Bound, Ritter Center, the Marin Housing Authority, County of Marin, City of San Rafael and other public entities continue to work together to with a "housing first" model through the Homeless Outreach (HOT) Team, Coordinated Entry, and Whole Person Care. Since the county and local nonprofits serving the homeless made this switch a year ago, 70 chronically homeless people have been placed in housing that includes supportive services to ensure they remain housed.

Mary Kay Sweeney, executive director of Homeward Bound of Marin, the principal provider of shelter and services for homeless in the county, said, "In the old days, we used to fix people before they went into housing. We had every type of service imaginable: trauma services, drug and alcohol rehab on site." "We wanted to get somebody ready to get into housing," Sweeney said. "Now it's more like get them into housing and then bring the services there."

St. Vincent De Paul in San Rafael is launching a new Bridge Housing program, a low-barrier, housing-focused shelter that provides temporary placement for people coming from the street to stabilize while working to access permanent housing. Bridge Housing provides semi-private rooms in a secure setting to select clients coming through Coordinated Entry. These clients have high needs and may be challenged by a group shelter setting.

Paul Fordham, deputy director of Homeward Bound, said, "It's great to celebrate how far we've come, but let's not celebrate too much because there is a lot more to be done."
After REST What?
The change of approach has coincided with the end of Marin's Rotating Emergency Shelter Team program (REST), which operated for 10 years with the assistance of some 40 churches, synagogues and other organizations. With this program ending, the county is still not clear on where the homeless men and women will sleep this winter. We at Westminster have participated for 10 years serving a hot meal on Sunday night from November through the end of April and allowing men experiencing homelessness to sleep in Findlay Hall.

Below is an option for Westminster's members and friends to stay involved and supportive of our neighbors who live on the street.

Tuesday night dinners at First Presbyterian in San Rafael. The Marin Interfaith Street Chaplaincy (TSC) hosts around 40 people each night but they anticipate growth to up to 70 as the weather changes. This is a meal only – no accommodations are made for sleeping.

They are asking for congregations to support this effort starting in January.
We at Westminster would like to get involved in this effort on a monthly or 6 week basis and will be asking for volunteers. Westminster has been amazing in support of the homeless through Mill Street Meals, the Thursday Hot Lunch program, Voyager Carmel meals as well as REST. We have a list of over 60 people who have participated in the past. Judi Sachs and Carolyn Grey have volunteered to organize these meals.

This effort is different from our REST program in some ways and similar in others.

How it's similar:
1. Guests will gather at 5:30 and dinner served roughly at 6:00, with time for volunteers to sit with and visit those in attendance.
2. The meal will be prepared off-site (ultimately in our new kitchen!) and delivered to First Presbyterian San Rafael for serving the homeless and budget challenged who gather there.
3. Meals would be served on paper plates etc. (paid for by the Street Chaplaincy).
4. Clean-up will be done by volunteers with assistance of guests.
5. We will organize, plan a menu, get food donations and transport the food.
How it's different:
1. The group may be as many as 65 to 70 — previously we served 45-50.
2. It will include both men and women.
4. There will be a definite spiritual component of the evening, bigger than the circle with short prayer that we had in the past. This is very important to Nick Morris, who leads the Street Chaplaincy
5. This effort will be year-round.
6. It will not be at WPC.
7. There will be no screening for "suitable behavior" as with REST, so there may be some people who are impaired. (The group does a good job of monitoring themselves. We have heard that they have not had any major incidents.)
8. The guests will NOT sleep at First Pres, but will return to the street or to their homes
Other Opportunities to Get Involved
Homeward Bound coordinates Mill Street Shelter dinners for 55 individuals. They have openings for groups to provide meals above and beyond what is currently done and they will welcome up to 8 individuals a night to sit down and share a dinner with guests. Contact Andrea Rey, volunteer coordinator: 415-382-3363 ext. 212.
To join Westminster volunteers in providing a meal for Mill Street, contact Kathleen Buckstaff:
St. Vincent de Paul Free Dining Room in San Rafael is open for breakfast and lunch daily. Sign up to volunteer in the kitchen or dining room or simply drop by for lunch and visit with folks from REST, some of whom work there.
St. Vincent de Paul is also planning a pilot program for individuals who might like to journey with a newly housed person as they transition off the street, e.g., coffee dates or helping with setting up bank accounts, etc. Contact:
To help with the Thursday Hot Lunch program which serves southern Marin folks, mainly "anchor-outs", contact Diane Newman:
On the last Sunday of the month, join Westminster volunteers in providing a burrito meal for Voyager Carmel in San Rafael. Contact Carol Coffman:
Judi Sachs