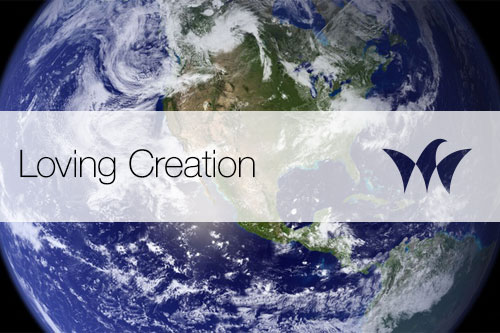 Starting the New Year with Eco-Friendly Changes to our Daily Lives
Caring for Creation would like to suggest some relatively-easy, cost-effective, eco-friendly actions to consider to start the New Year.
• Eat one or two vegetarian dinners a week — eating less meat is one of the most effective ways to reduce your carbon footprint. "Raising livestock produces 20% of global greenhouse gases." It takes a lot more energy to produce a pound of meat than non-meat alternatives.
• Walk or ride your bike to nearby appointments or errands; Jeff Heely has set a goal of walking if his destination is within 4 miles; and at the same time he is keeping in shape.
• Subscribe to Imperfect Produce "1/3 of the food raised does not make it from farm or factory to fork", a good portion because it is not perfect in shape or size.
• Change your light bulbs to LED; LED lights have come down in price, last a long time, use way less energy and can substantially decrease your electric bill. "LED uses 90% less energy for the same amount of light as an incandescent bulb and half as much as fluorescent, without toxic mercury."
• Plant a tree or plants that attract butterflies or bees
• Dry one fewer load a week.
• Be more conscious in recycling and composting - at home and at church. This year we plan to buy new food waste bins and create clear signage for disposal of our food waste at WPC with the goal of composting 90% of it.
• Donate clothes, shoes and jewelry that you no longer wear to the Tiburon Thrift shop —in addition to recycling, you are also donating to the church since the WPC women, who staff the thrift shop on Mondays, pledged $14,000 to the church from their share of the Thrift Shop profits; you can leave items in the barrel at the church or take them directly to the thrift shop Monday through Saturday form 10-3.
• Switch to reusable bottle drink containers. "Only 5% of plastics are successfully recycled." The relatively new double-walled stainless bottles such as those made by Hydroflask or Swell keep your drinks cold or hot for 24 hours, are comfortable to hold, and don't sweat. The best action always is to reduce possible waste. And bring your reusable mug to church.
• Switch from light green to Deep Green for your electricity. It will cost you 1 cent more a kilowatt hour used and all of your electricity will come from solar and wind. For most households this is under $5 a month.
Quotes are from Drawdown, The Most Comprehensive Plan Ever Proposed to Reverse Global Warming by Paul Hawken.