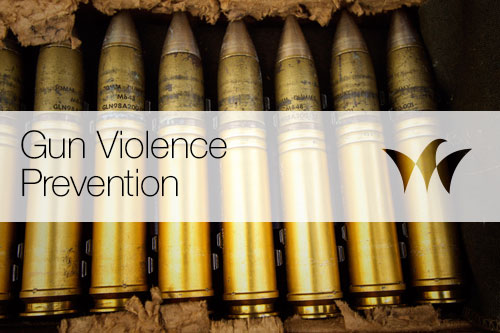 Reducing Gun Violence
The Gun Violence Prevention focus group at WPC seeks to raise awareness and bring ideas and strategies to our church community that can reduce unnecessary gun violence in our country. After the horrific tragedy in Las Vegas late Sunday evening on October 1st, the discussion of what can we do is taking place throughout our community with greater urgency and purpose.
The issue of gun violence is complex and deeply rooted in our culture. There are actions we can take to help ensure our families and communities are safe. There are organizations placing a renewed emphasis on improving gun injury and violence research. Ongoing work is needed to ensure firearms do not fall into the wrong hands and to expand access to mental health services to those who need it most. Many Americans support common sense gun laws, but to make them happen, they need regular advocacy and supportive research. We invite you to learn more about what a few organizations making a big impact are doing:

The Law Center to Prevent Gun Violence www.smartgunlaws.org
Founded in the wake of the July 1, 1993, assault weapon massacre at 101 California Street in San Francisco that left eight dead and six wounded, the Law Center to Prevent Gun Violence is now the premier resource for legal expertise and information regarding state and federal firearms laws. By making complex legal and policy issues understandable, conducting legal research, analyzing existing and emerging policy strategies, and generating model regulations, they educate communities, and empower governments to pursue effective measures that are legally defensible. Accessible tools include an online state-by-state gun law "scorecard" and multiple one-page, jargon-free fact sheets on gun violence that help us all become more aware and conversant on this controversial but important topic. While their impact is national, they are based in San Francisco, offering us additional opportunities to attend their inspirational and informative panel discussions and related events.
Moms Demand Action for Gun Sense in America www.momsdemandaction.org
Much like Mothers Against Drunk Driving was created to reduce drunk driving, Moms Demand Action for Gun Sense in America was created to demand action from legislators, state and federal; companies; and educational institutions to establish common-sense gun reforms. This nonpartisan grassroots movement has grown to include a chapter in every state across the country. They are educating, motivating, and mobilizing supporters to take action that will result in stronger laws and policies to save lives. Activities include a Be Smart educational presentation that provides five simple steps that we can all take to prevent children from accessing guns and a Gun Sense Action Network of easily-trained, low-time commitment volunteers who encourage legislative action through phone calls and text campaigns. They also operate an active network of gun violence survivors. Moms Demand Action supports the 2nd Amendment, but believes common-sense solutions can help decrease the escalating epidemic of gun violence that kills too many of our children and loved ones every day. Text ACT to 64433 to receive texts that recommend timely communication with your representatives, or ask to join the private group Marin Moms Demand Action on Facebook to keep track of the conversation and regular local events. **Upcoming Event**: To RSVP for an informational session, to be held in Mill Valley on October 24 at 7:00pm, click on this link: http://act.everytown.org/event/moms-demand-action-event_attend/7119?aktmid=tm1775660._tVazw&akid=a31976658.5881098.zQ8A1u&t=2&source=conf
The American Public Health Association www.apha.org/topics-and-issues/gun-violence
Gun violence is a leading cause of premature death in the U.S. Guns kill almost 30,000 people and cause 60,000 injuries each year. As a longtime advocate for violence prevention policies, APHA recognizes a comprehensive public health approach to addressing this growing crisis is necessary. The APHA shares up-to-date information on policy and advocacy as well as research and data.
The Trace www.thetrace.org
The Trace is an excellent independent, nonpartisan, nonprofit journalism startup started in 2015. It is dedicated to shining a light on America's gun violence crisis and filling in critical knowledge gaps not covered in traditional media.
We hope you will join in the discussion.
Thank you on behalf of the Gun Violence Prevention group, Trigg McLeod