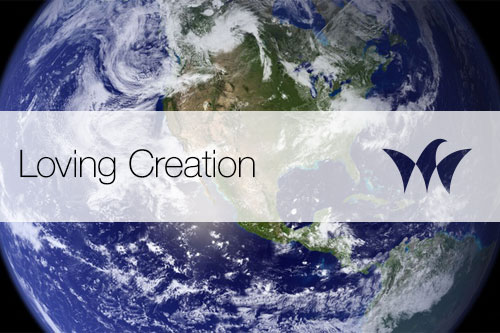 Loving Creation 2018
MISSION AND OBJECTIVES
WPC's environment-focused group reconstituted itself as Loving Creation in mid 2016 with the following objectives:
Encourage the church's efforts in becoming a "green" church—recycle/compost 90% of waste at food-related events and office operations; incorporate energy & resource conservation into all church operations such as repairs/renovations, supply purchases, etc.
Provide tools and activities and recommend advocacy actions to help WPC members make decisions that impact climate change and care for God's creation in our lives and more broadly the world around us.
2016 - 2018 INITIATIVES AND ACTIONS
Provide ideas and energy to recycle and compost the majority of products and foods that pass through our church building. Identify best products and design signage and a process to support this effort.
Piloted recycling/composting with compostable paper products. Process began with REST program in November 2016.
Identified compostable products for food service and shared with Buildings and Grounds. Started purchasing compostable products for WPC food service in 2017.
Develop signage and recycling/composting process for all church events in 2018.
Add renters and nursery school to these efforts in 2018-2019.
Encourage WPC to convert to Marin Clean Energy's Deep Green for electricity. In January 2018, WPC upgraded to purchasing 100% of our electricity from renewable wind and solar.
Offer programs to help our members reduce their carbon footprints and live more sustainable lives:
Bev Alexander presented a program on the risks to our environment from climate change on July 20, 2016.
Tamra Peters presented an overview of the Resilient Neighborhoods' program January 15, 2017. Fifty members attended.
15 WPC members participated in the 10-hour Resilient Neighborhoods program in 2017 and their resulting actions and commitments reduced their carbon footprints by 164,300 pounds annually, equivalent to taking 16 cars off the road.
Co-sponsored an eco-fair with Spiritual Life in September 2017 to share and display members' and friends' eco-actions. About 100 members attended. There were 15 booths: bee-keeping, Marin Bicycle routes, electric bikes, electric cars, Marin Clean Energy, vegetarian and vegan diets, Imperfect Produce, green gardening, environmentally sound investing, food insecurity and its relationship to climate change, grey water made easy, Resilient Neighborhoods, solar energy, plastic reduction, and Marin home efficiency and upgrade rebate program.
Arrange for a speaker from Drawdown in 2018, which focuses on scientifically proven actions that can reverse climate change.
Be visible in WPC communications
Instituted a regular column in Zephyrs.
Developed content for the WPC website.
Developed a list of congregants who are interested in this area and are sending monthly email communications to them.
Offer opportunities to engage in social efforts to support and care for creation
Developed and shared a list of environmental organizations, grass roots and national, where members can show support financially, politically, etc.
Sent information and action opportunities to distribution list.