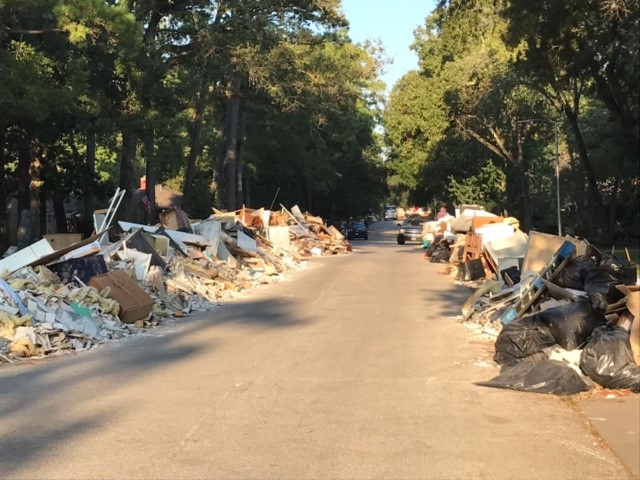 Hurricane Harvey
A couple of weeks ago, we were all shocked to watch the devastation of Hurricane Harvey's strong winds, tornadoes, and frighteningly dangerous flooding. Since then, the remarkable thing to me has been the many stories I've heard since of kindness, courage and help given to those who sustained damage - not only by first responders, but also by the local friends and neighbors who had been spared in the hurricane.
I was tuned in to the impact on Houston because Bob and I'd lived there for some years and we still have a lot of family and close friends living there. Numerous phone calls and emails have been going back and forth.
My brother and sister-in-law were out of the country when rising water threatened their home, but my nephew, accompanied by a group of friends, went to their home and carried their furniture and belongings up to the second floor out of harm's way. They did the same thing at the homes of several others in the neighborhood.
Immediately after the hurricane, one good friend, a recently retired nurse/consultant, worked daily for two weeks at each of the large convention centers in Houston where evacuees were sheltered. She supported the volunteer medical residents from the Texas Medical Center as they welcomed, assured, and treated the evacuees who needed medical help. She also helped receive supplies brought in, around the clock, by people waiting outside in car lines (usually one and one-half hours long), to donate items from their own homes or collected in their neighborhoods
Another friend told me that, by boat, she had accompanied a friend to retrieve belongings from her apartment building which was partially under water. In describing the degree of assistance being provided by many, my friend added that members of her church, Memorial Drive Presbyterian, were setting up teams to help with clean-up and the acquisition of materials necessary to rebuild homes. They were also partnering with other churches to help supply the food banks.
Of course, all these folks and many others were just so relieved to have been spared the flooding. Having lived there, though, I know they commonly share a strong sense of community through their churches and neighborhoods, and they were glad to be in a position to help - just like when they welcomed the victims of Hurricane Katrina 15 years ago, providing families with meals, clothing, housing and schooling. This pitching in, on such a large scale, provides hope and evidence that helping each other really can mean a great deal. I feel fortunate to be part of a wonderful church community that would probably respond in the same way.