Youth News

Message from Jeff
April 4, 2020
Have 1 Minute to Read? – Upcoming Details


1. Middle School Zoom Meet Up


THIS Sunday, 4:00pm – 4:45pm


Join Zoom Meeting - https://zoom.us/j/418336564 `or use the Meeting ID: 418 336 564


Virtual icebreakers, virtual conversation, virtual prayers, virtually everything we usually do!


We'll try to keep this going until we can physically gather again


2. Wednesday Hot Lunch Program


THIS Wednesday, 4/8, 10:00am - 11:00am


Westminster Parking Lot, 240 Tiburon Blvd., Tiburon


If you're able, we are collecting bag lunches for the food insecure


Details below
3. Middle School Mission Trip to Santa Cruz (see the latest information as of April 4, 2020 below):


---
Have 5 Minutes to Read? - Opportunity to Serve Others Now
This past week we've been in touch with families wishing there was something they could do to alleviate some of the suffering and also just to have a good reason to get out of the house. At the same time, we've been in touch with our friends at Sausalito Presbyterian Church who've been hosting our hot lunch program about their needs going forward. Since many of their volunteers are seniors and considered "at-risk" and many of the vendors who've been providing them with food have had to scale back service we thought you might be able to help in a small way.
Further, the Marin Health and Human Services (our public health department) asked us to help so we could spread the word about COVID-19 best practices. Since many in the homeless population place far more trust in churches than the government they're hoping we can relay some information to protect that population with the meals we provide. This is considered an "essential service."
This is what we need:


1. Brown Bag Lunch (in your bag please include)



* Peanut Butter and Jelly


* Thinly sliced deli meats and cheese


* Bananas, Oranges, Cuties


* Yogurts


* Hummus, Guacamole, etc



* Soft foods such as:


* Juice or Water


* Chips/Crackers are okay and appreciated


* Soft Cookies or other soft treats



2. Print and Drop the attached info into each bag Flyer for Bag Lunch


3. Say a prayer for each bag


4. You're also welcome to include:



* An encouraging note


* Sanitary supplies


Feel free to make as many as you'd like. Our goal is to have at least 25. Please do keep in mind that we'll be doing this every week for the foreseeable future.
One of our high school adult leaders Jeff Heely has volunteered to be at WPC this Wednesday between 10:00am – 11:00am to collect all the bagged lunches. He will take them all to Sausalito Pres. We're doing this with the Friday Morning Men's Group who also wanted to help. Thanks to them! And special thanks to Jeff!
If for some reason you need to reach Jeff Heely here you go:
Lastly… looking for other ideas or need some help with this? Call/text/email/Facebook/Instagram/Tweet/Snap/zoom me anytime!
---
Have 5 Minutes to Read? - COVID-19: What We're Doing (or at least trying)
While I haven't been able to speak to all of you or all our youth, there are a few common threads unique to youth ministry. First, I must start by saying we're here for the spiritual needs of the youth in our community. We're not here because we're health experts. We want everyone to feel included and yet never pressured to be a part of something they don't want/need to be.
The general consensus from youth, parents, adult leaders, staff, and our Elders is:
* * Our youth want to keep connecting

* * People are looking for their kids to have some normalcy
Our church is ramping up its online footprint as I'm sure many of you have taken advantage of the Facebook livestreams. Those will continue to be available and what better way to say to your kids on a Sunday morning, "Wake up! We're going to church in our pajamas. We are also found on YouTube. Just click on the YouTube icon on the Home Page.
* * Upbeat worship songs for the whole family

* * Other short videos to provoke spiritual conversations among family.

* * Recaps of our own worship services, events, and trips
In times like this I hope we can all set a positive example for our youth showing them that it's okay to lean on others. And considering what all our schools and community is going through may we also continue to be kind, forgiving, patient, and full of love.
---
"What is a mission trip?"
Nothing spurs on a young person's spiritual journey like a mission trip. What is it???

It's a 5-day trip we take annually where we serve the community during the day and bond as a group through fun and spiritual activities in the evening. Showers come at a premium (and usually with a time limit), we make and clean all our own meals, we sleep on the floor together, laugh together, sing together, play together, and simply grow together as a result of serving together. It may sound strange that paying money to work for someone else while "roughing it" would be the highlight of your summer, but time and time again, for the youth with us, it.
We always want to present our mission trips as a cultural immersion program where our youth don't just serve but also get a change to learn from the community that we're in. We have built relationships with the people we serve and serve with over the past couple years. We have been asked to come back every year by every group! Your kids will get to pick which service project they want to be a part of (they might not get their first choice, but that's our goal). Some of the things we'll be doing are:
- Upkeeping a community farm alongside the homeless


- Serving at a soup kitchen


- Playing and doing crafts with underprivileged children


We'll also be taking time for play and fun, quiet reflection, debriefing as a group, and worshipping together. And, since we're in Santa Cruz we'll of course have to take a couple of hours at the beach and boardwalk. We really want to immerse our students in life in Santa Cruz, especially the parts they don't see while on vacation.
Mission trips are the springboards in our youth ministry that lead our youth into deeper connections with their faith life. the best part is it happens naturally because of the connections they make with their adult leaders and each other. These relationships (with God, their leaders, and each other) are spurred on throughout the year leading our youth towards taking active roles in the church, community, friend groups, and schools. For most of our youth, their biggest growth begins in Santa Cruz!
The Details *****LATEST INFORMATION****
Trip Update as of April 4, 2020
We've been in contact with our friends in Santa Cruz to figure out what's best for them this summer. When we plan our mission trips ti's with a 60/40 or 50/50 consideration of what's best for the community we're serving and what's best for our students. It's an imperfect balance but our heart is in serving the needy and serving youth.
This summer we'll need you to be flexible and have an open mind.
Based on the feedback we're getting from the people there, it's currently like a 50% chance the Middle School Mission Trip will take place on its current dates. If the sites we're working with happen to change their plans, we'll change ours.
It's our goal to give you at least 20 days' notice of trip departure. In other words, if we say we're going to leave June 22nd, then we would let you know by June 2nd. With so much in flux I'm afraid that's the best we can do.
We plan on serving the people of Santa Cruz if for no other reason that all our partners plan on and expect us to be there. We don't want to let the people of Santa Cruz down. We also recognize that each of you has a different situation. Some of you can'ta wait to give your child this opportunity while others of you would rather your child sit this one out. Please know, we are going to respect every family's decision.
We will keep you posted. I welcome your feedback on this whatever it is.
What: MS Mission Trip 2020

When: Monday, 6/22 - Friday, 6/26 THESE DATES MAY CHANGE - SEE BELOW

Where: Santa Cruz, CA (housing at Peace United Church of Christ, 900 High St., Santa Cruz, CA 95060)

Who: Anyone having just completed 6-8th grades (we always need adult leaders also!)

Why: To remove the distractions of home and grow stronger together as a group in service

Cost: $350 (scholarships available, please ask)

RSVP: Complete the registration form: https://forms.gle/parTeQbMoV6jGffXA

Service Hours: Your child would receive around 20+ hours of community service from this trip
Check out highlights from last year's trip here: https://www.youtube.com/watch?v=Bn5GkpPM-vc
Next Steps
RSVP or Fully Register


Pay your deposit

a. A deposit of $50 will secure your spot(s)

b. You are welcome to pay the full amount anytime

c. Payment can be made online at: https://my.e360giving.com/App/Giving/wpctiburon **Select "youth Mission Fund" from the drop down menu**

d. Or by check made payable to "Westminster Presbyterian Church. **Be sure to include "MS Mission Trip" on the memo line**


Complete the necessary paperwork

a. We will email you a packet of waivers for the various activities we'll be involved in as they are made available by our partners in Santa Cruz

b. You will also receive a packing list of all necessary items (and those to leave at home)


Direct any questions and/or concerns to Jeff Shankle


Chin up,
Jeff Shankle

Office: 415-383-5272 x218
---
Have 4 Minutes to Read? - Follow Up on RECLAIM: Inclusion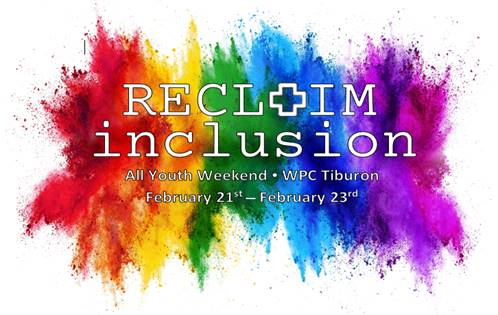 It so happened that our all youth RECLAIM weekend became a middle school affair this spring. Good for our middle schoolers then! We spent that weekend talking about inclusion and what it means to include outsiders on our spiritual journey and to be included by others. Our youth noted, as they've done before, that they know people who feel down and struggle. They recognize that theirs is the loneliest and most depressed generation. Confronted with that understanding we think it only makes sense that we should be including others into groups that are life-giving as the WPC Youth Group.
It shouldn't matter whether so and so is a Presbyterian, a Christian, or heck, even religious at all! Our youth group is a place for all comers. Some of you know what it's like to be a part of a church family that is not as inclusive as you wished it would be. One of the strengths of WPC (by most accounts) is this congregation's ability to accept people for who they are without having to acknowledge a wide array of dogmas.
Our hope is that as the spiritual maturity of our youth grow they'll recognize and act on their concern for their friends by inviting them to "come and see" a group of middle schoolers do things that are good, such as serving the hungry, advocating for justice, or rolling around in a human hamster ball because well...it's just fun! This is what outreach looks like. Us sharing our light with the world.
---
Have 7 Minutes to Read? - Teaching Grace in the Home
One of the central tenets of our faith that may differ from others is the idea that we don't really do anything to reach God. Rather, God comes to us. Regardless of how "religious" we are or how much we know about the Bible. Despite the mess we make of own lives and others, despite how often we disappoint ourselves or others, we are always loved. Through the Holy Spirit, God's presence is with us always. Even more, God wants to be there with us especially in the messiness.

We call this grace.

You and I might be able to appreciate the grace God gives. That we are loved by something so holy regardless of what we do or don't do, but it may be hard to instill this sort of thing in the heart (not just the mind) of a young person. We all know that our faith can't solely be taught. It has to be experienced.

So how do we experience it in the home?

Just say, "I'm sorry" to your teenager more. That's a great starting place.
"I'm sorry for the tone of voice I used when I asked you about your homework."
"I'm sorry that I misunderstood the conflict you were having with your brother and jumped to an unfair conclusion."
"I'm sorry that I wasn't sensitive enough to how tired you were from soccer."
In today's world our youth feel extraordinary pressures from all kinds of angles. We want them to know that their family is a safe place. And we hope that they are an example of grace to others.
If you want to make your home a hub of grace, try the following:

1. Keep your personal antennae up for times when your own fatigue causes you to speak unkindly to your kids.
2. when you feel like you've wronged your kids, tell them that you're sorry and ask for their forgiveness. Say, "Is that okay?" or "Does that make sense?"
3. Make sure you are quick to extend forgiveness to your kids when they need to do the same.