Just for High School
Message from Jeff.....
January 2020
Have 1 Minute to Read? Upcoming Details
Next Sunday Series - The Deadly Sins vs The Deadly Virtues
- This one is what our students wanted to do as their elective for the next 7 weeks.
- We'll be exploring the differences of things that hurt ourselves and others against the things that bring life to ourselves and others.

SLA - Student Leader Apprenticeship Sign-Ups
- We take 2-4 students to Santa Cruz to set up and lead our middle school mission trip by meeting with our contacts, planning worship, setting up logistics, etc.
- For high schoolers who have participated in a WPC mission trip
- More info and sign-ups at: https://forms.gle/5EEZ5yuzXoJN7Jjb6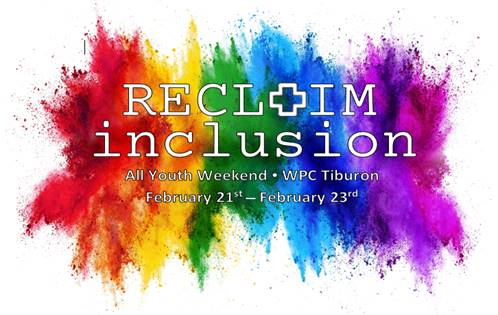 RECLAIM All Youth Weekend 2020!
- Sign-ups are live - https://forms.gle/Xt816fpV5ch7dxkR9
- Our annual in-house missions weekend camp returns!
- Friday, 2/21, 6:00pm - Sunday, 2/23, 11:30am
- Cost: $75
- RSVP with an email or complete the form from the link above

The last weekend of winter break is our annual RECLAIM all youth weekend. Last year (our first) was great for everyone who was able to join us. We recognize, as I'm sure you do daily, how our youth can get bogged down under the weight of their busy lives and the distractions that consume them throughout the year. It is hard living a life following the life and teachings of Christ. What was a blooming spirit of joy, openness, and love after the summer can turn into frustration and stress by spring. The way we look at our youth ministry calendar, we've cared out a weekend to RECLAIM all that's good in this life. Here's how we do it....

* worship with live music (Thanks to our own Bethany Nelson!)
* inspired by touching messages
* time to process through conversation with peers and our amazing adult leaders
* playing games with one another...
* service through local community partnerships
* having meals with fellow WPC members who generously open their homes to us
* taking over the 10:00am worship service

Save the date:
- HS Mission Trip: 7/26/2020 - 8/1/2020
As many of you remember, we recently hosted FCD Prevention Works for a Prodigal Parent Series on teen substance abuse including vaping. After some work with John and others there, we're able to provide you a wealth of resources. Please feel free to share.
For a listing of these articles, please go to: Substance Abuse Workshop Follow Up
Please know that I am happy to chat with you either in person or over the phone as someone who's talked with teenagers about the topics for 20+ years. We're all in it together.
Have 4 Minutes to Read? -From Cemetery Field Trips to Demolishing Stuff

Our middle schoolers just finished a semester talking about fellowship. One of the points brought up was the need for shared experiences when trying to create fellowship. Because our youth group has students from an array of schools many of them don't see each other very often. Even if they came every week they'd still only be with each other for about 40 minutes out of 7 full days.

So we're always looking for ways to give them a chance to work together and make memories with each other. As research is telling us, people find greater joy out of experiences rather than getting stuff. Playing off of that lesson, we believe giving our students memorable experiences is more helpful than constant lessons involving more sitting down and being quiet.

Our middle schoolers recently painted 6 doors in the colors of the rainbow which gave us a memorable experience they can always carry with them, and also afforded us the chance to talk about how this youth group and this church are a place where everyone, no matter what, is included. At the same time our high schoolers went on a field trip to a cemetery to talk about praying through the worst parts of life. Life isn't always great for a high schooler and when it's not, how do they talk to God about that?t

It also works because when we, again, say something absurd like, "yes, bring a hammer or axe to church," we're creating yet another shared experience that is even more memorable. And when the final hammer or baseball bat swings, we'll be able to talk about how the family of God, the church, needs everyone involved. Our youth will not be consumers of WPC> Currently we have 1 Ruling Elder coming off Session with 2 more set to be voted on this month. We also have 4 high schoolers currently serving on Commissions. They are an active part of what we do...even if it's just breaking stuff.
Have 8 Minutes to Read and Watch? - The Birth of Jesus - Gospel of Luke, Ch. 1-2

https://www.youtube.com/watch?v=_OLezoUvOEQ
Chin up!
Jeff Shankle