Preview for Service of Word and Sacrament
November 18, 2018
Twenty-sixth Sunday after Pentecost, Liturgical Color: Green
Westminster Presbyterian Church, Tiburon, California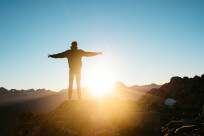 This weekly study guide seeks to help us prepare for the upcoming Sunday service and teaching.
Call to Worship (Written by Owen Peterson)
One: Welcome to new journeys with new beginnings.
Many: We come hoping for God to teach us the way.
One: Here we believe we can have new beginnings, so may we let God help us on our way.
Many: Let us learn what comes from God.
Community Prayer
O God of Grace, we confess that sometimes we are unsure of our faith. We can get weighed down with doubt or guilt and think that we do not have the strength to trust in you. Fill our hearts with the assurance of your love, and renew our courage through your Holy Spirit that we may serve you with joy. Amen.
(Written by Benjamin Bucey, Thomas Harrison, Lexi Phillips, and George Warga)
Sermon Focus
This Sunday, our High School Confirmation class will lead us in worship. As they discussed a theme on which they wanted to focus, "New Beginnings" quickly arose. This Sunday is a new beginning for them, as they become church members and begin this new step on their faith journey. It is their hope that each day can be a new beginning for all of us, as God's mercies are "new every morning."
Working Title New Beginnings Abby Keenley, Sophia Harkins,Charlie Rafter, Brooke Wangenheim
Scripture
Isaiah 43:18-19
Do not remember the former things, or consider the things of old. I am about to do a new thing; now it springs forth, do you not perceive it? I will make a way in the wilderness and rivers in the desert.
Lamentations 3:22-24
The steadfast love of the Lord never ceases, God's mercies never come to an end; they are new every morning; great is your faithfulness. "The Lord is my portion," says my soul, "therefore I will hope in God."
Possible Hymns
Morning Has Broken No. 664
I Want to Walk as a Child of the Light No. 377
Quotes for Continued Reflection, Meditation, and Prayer
Every day I feel is a blessing from God. And I consider it a new beginning. Yeah, everything is beautiful.
~ Prince