"Teaching of the Week"
Preview for Service of Word and Sacrament, October 22, 2017
The Twenty-Ninth Sunday in Ordinary Time, (Year A) Liturgical Color: Green

This weekly study guide seeks to help us prepare for the upcoming Sunday service and teaching.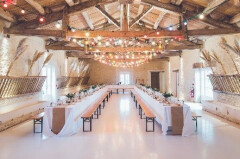 Call to Worship
One: Come, for you have been called.
Many: Let us trust in the goodness of God.
One: Come, for you will be supplied with what you need.
Many: Let us share in what we've been given.
One: Come, for God is welcoming you home.
Many: Let us rest in the safety of Christ our Lord.
Community Prayer
Inviting God, challenging God, caring God, we want to answer you call. Some of us cannot believe we are called. Others have been taught that some are not welcome. Others still have only been confounded by the stories of You. Illumine us that we might see what we have never seen before and be transformed by your living Word. Amen.
Sermon Focus & Title What to Wear Robert McClellan
Today, we return to the same Scripture as last week, Matthew 22:1-14. After last week's sermon, so many questions abounded about the fate of the one who was turned away from the wedding feast, we continue our exploration of this perplexing parable. What does this mean? How could God turn someone away, and for wearing the wrong outfit?!? We explore accountability, faithfulness in both word and deed, and the gospel's invitation on our life.
Scripture(s)
Scripture Reading
Matthew 22:1-14
1Once more Jesus spoke to them in parables, saying: 2"The kingdom of heaven may be compared to a king who gave a wedding banquet for his son. 3He sent his slaves to call those who had been invited to the wedding banquet, but they would not come. 4Again he sent other slaves, saying, 'Tell those who have been invited: Look, I have prepared my dinner, my oxen and my fat calves have been slaughtered, and everything is ready; come to the wedding banquet.' 5But they made light of it and went away, one to his farm, another to his business, 6while the rest seized his slaves, maltreated them, and killed them. 7The king was enraged. He sent his troops, destroyed those murderers, and burned their city. 8Then he said to his slaves, 'The wedding is ready, but those invited were not worthy. 9Go therefore into the main streets, and invite everyone you find to the wedding banquet.' 10Those slaves went out into the streets and gathered all whom they found, both good and bad; so the wedding hall was filled with guests.
11"But when the king came in to see the guests, he noticed a man there who was not wearing a wedding robe, 12and he said to him, 'Friend, how did you get in here without a wedding robe?' And he was speechless. 13Then the king said to the attendants, 'Bind him hand and foot, and throw him into the outer darkness, where there will be weeping and gnashing of teeth.' 14For many are called, but few are chosen."
Hymns
Wild and Lone the Prophet's Voice No. 163
My Shepherd Will Supply My Need No. 803
Quotes, Questions & Prompts for Reflection, Discussion, and Prayer
"The demands of the kingdom are good news because they validate the significance of our lives."
-David Bartlett
1. What do you make of the one who is turned away for not having the right robe on in the Bible story?
2. Does God exclude?
3. How do we explain who do harm, even evil?
4. Most importantly, why would Jesus tell this parable?