Preview for Service of Word and Sacrament
July 22, 2018
Ninth Sunday after Pentecost, Liturgical Color: Green
Westminster Presbyterian Church, Tiburon, California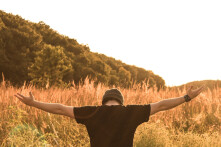 This weekly study guide seeks to help us prepare for the upcoming Sunday service and teaching.
Call to Worship
One: The goodness of God has called us here!
Many: We are recipients of God's gracious love.
One: We have come seeking peace and hope.
Many: We open our hearts and spirits to the refreshing grace of God.
One: Praise be to God who loves and cares for us.
Community Prayer
Loving God, as you have found us before every time we have come to you in prayer, find us again this day, in this moment. In our joy and in our sorrow, may we always know the joy and comfort of being with you in prayer. Wrap your arms of compassion around us. Make us aware of the magnificence of this world. Draw us to times of peace and rest. Remind us that we stand in need of forgiveness, and then having received such love, we are called to love and serve others. Amen.
Sermon Focus
When his disciples asked Jesus to teach them to pray, he responded by teaching them the Lord's Prayer. This prayer has become an integral part of both community worship and individual spiritual practice. This Sunday, Ted will explore how this is a prayer for every day.
Working Title A Prayer for Every Day Ted Scott
Scripture
Luke 11:1-4
Jesus was praying in a certain place, and after he had finished, one of his disciples said to him, "Lord, teach us to pray, as John taught his disciples." He said to them, "When you pray, say:
Father, hallowed be your name.
Your kingdom come.
Give us each day our daily bread.
And forgive us our sins,
for we ourselves forgive everyone indebted to us.
And do not bring us to the time of trial."
The Maori Lord's Prayer
Eternal Spirit, Earth-maker, Pain bearer, Life-giver,
Source of all that is and that shall be, Father and Mother of us all,
Loving God, in whom is heaven:
The hallowing of your name echo through the universe;
The way of your justice be followed by the peoples of the world;
Your heavenly will be done by all created beings;
Your commonwealth of peace and freedom
sustain our hope and come on earth.
With the bread we need for today, feed us.
In the hurts we absorb from one another, forgive us.
In times of temptation and test, strengthen us.
From trial too great to endure, spare us.
From the grip of all that is evil, free us.
For you reign in the glory of the power that is love,
now and forever. Amen.
Possible Hymns
What a Friend We Have in Jesus No. 465
Every Time I Feel the Spirit No. 66
Quote for Continued Reflection, Meditation, and Prayer
When you recognize the festive and the still moments as moments of prayer, then you gradually realize that to pray is to live.
~ Henri Nouwen