"Teaching of the Week"
Preview for Service of Word and Sacrament, September 23, 2018
The Twenty-Fifth Sunday of Ordinary Time (Year B)
Westminster Presbyterian Church, Tiburon, California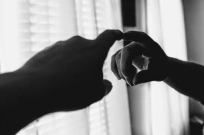 This weekly study guide seeks to help us prepare for the upcoming Sunday service and teaching.
Call to Worship
One: Gather us in, O God, in your peaceable presence.
Many: Bless this time and this gathering that it might be safe and Welcoming.
One: Open us to the revealing of your way and wisdom.
Many: Give us what we need this day.
Community Prayer
Gracious God, the wisdom you give is pure, peaceable, gentle, willing to yield, full of mercy and good fruits, without a trace of partiality or hypocrisy. Forgive us when we betray these values even in pursuit of goodness or justice. Draw us to you and to the way of Christ that we might resist the temptation to turn our passion into vitriol or demonization of those we deem different from us. Let the best tenets of our faith be born out not just in idle statements but lived communal reality. Amen.
Sermon Focus & Title Gentleness & Power Robert McClellan
How easy is it to become strident with our beliefs or viewpoints? How quickly we can become almost violent with our assertions (even about peace!)? James lifts up wisdom being manifest in gentleness. Not to be confused with sentimentality, gentleness implies a particular kind of strength and depth that is unthreatened. We will explore what this type of gentleness looks like and how to cultivate it.
Scripture(s)
First Reading
Psalm 1
1Happy are those
who do not follow the advice of the wicked,
or take the path that sinners tread,
or sit in the seat of scoffers;
2but their delight is in the law of the LORD,
and on his law they meditate day and night.
3They are like trees
planted by streams of water,
which yield their fruit in its season,
and their leaves do not wither.
In all that they do, they prosper.
4The wicked are not so,
but are like chaff that the wind drives away.
5Therefore the wicked will not stand in the judgment,
nor sinners in the congregation of the righteous;
6for the LORD watches over the way of the righteous,
but the way of the wicked will perish.
Second Reading
James 3:13-4:3, 7-8a
13Who is wise and understanding among you? Show by your good life that your works are done with gentleness born of wisdom. 14But if you have bitter envy and selfish ambition in your hearts, do not be boastful and false to the truth. 15Such wisdom does not come down from above, but is earthly, unspiritual, devilish. 16For where there is envy and selfish ambition, there will also be disorder and wickedness of every kind. 17But the wisdom from above is first pure, then peaceable, gentle, willing to yield, full of mercy and good fruits, without a trace of partiality or hypocrisy. 18And a harvest of righteousness is sown in peace for those who make peace.
4:1Those conflicts and disputes among you, where do they come from? Do they not come from your cravings that are at war within you? 2You want something and do not have it; so you commit murder. And you covet something and cannot obtain it; so you engage in disputes and conflicts. You do not have, because you do not ask. 3You ask and do not receive, because you ask wrongly, in order to spend what you get on your pleasures.
7Submit yourselves therefore to God. Resist the devil, and he will flee from you. 8Draw near to God and he will draw near to you.
Hymns
Jesu, Jesu, Fill Us with Your Love No. 203
Spirit, Spirit of Gentleness No. 291
Quotes, Questions & Prompts for Reflection, Discussion, and Prayer
"... you know that soft is stronger than hard, water stronger than rocks, love stronger than force."
― Hermann Hesse, Siddhartha
1. What are the things about which you are most passionate or upset?
2. What are you called to do or be in response to what you named in #1?
3. What practices can you put in place to help you live into these moments and issues faithfully?
4. Why does it matter how we do what we do?
5. What does your prayer practice look like?