Giving at Westminster
We are a community of faith in Jesus Christ and we are a congregation of givers. We gather at Westminster as one with God; singing together, mourning together, rejoicing together, baptizing together, serving together and pledging together. We give thanks for the abundance of our existence and for the various opportunities to support our entire ministry and beloved community.
**NEW** Online Giving
With our Online Giving feature, you can choose from a variety of installment donation options for your Annual Giving Pledge, the Forward in Faith 2020 Capital Campaign gift, a Legacy Fund (permanent endowment) gift, or those one-time donations for special events and fundraisers. Click on Give Online in the Securely Give box to: either set up your account profile with automatic payment options or, use the "Quick Give" option for a one-time donation. You will have flexible payment options: either with an eCheck, or a debit card or credit card. Once you select your payment method, you will choose from a drop down list, the appropriate fund for your donation. Your information is held securely by an SSL encrypted connection and will remain private.
Stock Donation
You can also contribute with a stock donation. If this is of interest, we have specialists able to assist you. Please contact the Office at 415-383-5272 or, email: for more information and the appropriate forms.
Shopping Donation
If you shop with Amazon.com, you can have a portion of your purchases go to support Westminster by going to www.smile.amazon.com and setting up Westminster as your recipient.
Securely Give
We come TOGETHER supporting this community of faith.
Living Generously, Changing Lives
"...all shall give as they are able, according to the blessing of the LORD your God that God has given you." Deuteronomy 16:17
In this the harvest season of our year, we join together to give thanks for the abundance of our existence and ask the Lord's blessing. Funding Our Future 2018 is the theme of our Annual Giving Pledge campaign. The money we give supports our entire ministry including various outreach mission projects, building operations, worship, and children and youth programming among many worthy efforts. As we count our blessings, won't you please fill out a pledge card, send it to the Office or drop it in the offering plate, so that we, together, can respond to God's call and plan for the coming year? We are committed to a culture of giving and ask for your faithful generosity and support of our beloved community.
2018 Pledge Campaign-Funding Our Future
2018 Pledge Update
Capital Campaign
Funding Our Future 2018
Every fall our Session considers a budget that will meet our operational and program needs including new opportunities for growth in ministry. Our budget supports vibrant worship, diverse and expansive ministries, staff, vital mission and the maintenance and improvement of our facilities.The annual budget is carefully considered by each Commission and the Session before being presented to the congregation at its annual meeting each January. Session is dedicated to informing our members openly of the financial discussions and decisions made throughout the year. We invite you to check out how we are doing on the Members page under the Financial heading. (under password; please call the Office if you need assistance.) The videos to the right from Harbo Jensen, Steve Dini, Lauren Halsey and Betty Hasler are this year's stewardship speakers for "Why I Support Westminster".
How Are We Doing?
Many of you want to know how we are doing financially. Thank you for your support and generosity to the work of Westminster.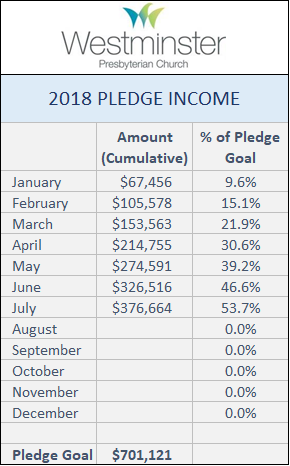 God has blessed us with thriving ministry programs, a healthy and growing congregation eager for service, and a distinctive calling and presence in our community. It's also an exciting time because we're planning to do something we haven't done as a congregation for 25 years: a significant building program. Portions of our church campus which were built in the 1960's are showing their age and are no longer adequate for the work we are called to do. Now, in order to continue our calling as God's people - to truly live our mission - we seek to revitalize our facilities by renovating and expanding our existing fellowship, kitchen, classroom, and office space. Our proposed building project will strengthen and expand our capacity for ministry.
Essential Renovation to Facility Infrastructure
Address years of deferred maintenance
Perform seismic upgrades to meet current building code requirements
Update the facility with critical energy-efficient upgrades, including windows, siding and roofing
Replace plumbing and sewer infrastructure
Repave worn and damaged portions of our parking lot
Strengthening Service and Community
Building a large commercial-grade kitchen to serve community meals, church events, and special programs
Revitalize fellowship space in the Fireside Room and Findlay Hall including improved acoustics, lighting and A/V equipment
Provide increased classroom space for Sunday School and Christian Education programs
Create flexible and modern meeting spaces which enhance our ability to host events
Provide a conference room and adjacent gathering space
Reconfigure office space to accommodate current and future administrative needs
Creating a Welcoming Environment
Enlarge the Narthex to provide a dynamic and welcoming entry and improve flow
Improve curb appeal and signage
Provide ADA compliant access to the entire facility, including larger restrooms and elevator access to the second floor
The Capital Campaign and design and planning process will run through 2018, with hopes to break ground in early 2019.