Youth News
Message from Jeff: May 2018
Hi Everyone!
Over the next 6 weeks our middle and high school students will plan, prepare, and teach our K-5 classes. We talk a lot about our young people's full inclusion in the life of the church. Therefore, our teens are serving as lectors, teaching classes for children and adults, serving on committees, and not sit on our Board of Elders who govern the church. Now, as part of our Forward in Faith campaign, they'll be involved through our spiritual study of people groups in the Bible who have moved "Forward in Faith." This campaign about the future of our church shouldn't involve only adults, but also the very people who will inherit this wor, our youth.
Here's a brief rundown of how the next several weeks will look. The first two weeks are preparation weeks. The following 4 Sundays of May is when we will be teaching the WPC-Kids' classes. We recognize that not everyone can be here every week, but please don't let that deter you. We'll be working in teams that will allow your teen to jump in any given Sunday. Please let me know if you have any questions or want to learn more. I can be reached at 415-383-5272 X218 or email me at: .


| | | |
| --- | --- | --- |
| DATE | MIDDLE SCHOOL | HIGH SCHOOL |
| April, 22, 2018 | Servant Leadership | Curriculum Planning |
| April 29, 2018 | Curriculum Planning | Servant Leadership |
| May 6, 2018 | The Exodus | The Exodus |
| May 13, 2018 | Nehemiah and The Rebuild | Nehemiah and The Rebuild |
| May 20, 2018 | Acts and The Early Church | Acts and The Early Church |
| May 27, 2018 | Hebrews 11 and The Promise of Faith | Hebrews 11 and The Promise of Faith |
Upcoming Events:
Santa Cruz Summer Mission Trip (6/18 – 6/23, 2018) Cost: $350 for 6th – 8th graders
We're really excited about how our mission trip is coming back together. We really want to present our mission trips as a cultural immersion program where our church doesn't just serve but also gets a chance to learn from the community we're in. Last year our middle schoolers and adult leaders laid the groundwork for the service to those in need that continues to this day. We were asked to come back by every group we partnered with last year! Your kids will get to pick which service project they want to be a part of (they might not get their first choice but that's our goal). Some of the things we'll be doing are:
· Teaching seniors how to use technology in their life
· Upkeeping a community garden alongside the homeless
· Serving at a soup kitchen
· Playing and doing crafts with underprivileged children
We'll also be taking time for play and fun, quiet reflection, debriefing as a group, and worshipping together. And since we're in Santa Cruz we'll of course have to take a couple of hours at the beach and boardwalk. We really want to immerse our students in life in Santa Cruz. Please refer to the flyer attached and the main details of the trip are below:
What: MS Mission Trip 2018
When: Monday, 6/18 – Friday, 6/22
Where: Santa Cruz, CA (housing at Peace United Church of Christ, 900 High St, Santa Cruz, CA 95060
Who: Anyone having just completed 6-8th grades (we always need adult leaders also!)
Why: To remove the distractions of home and grow together as a group in service.
Cost: $350
Service Hours: Your child would receive around 20+ hours of community service from this trip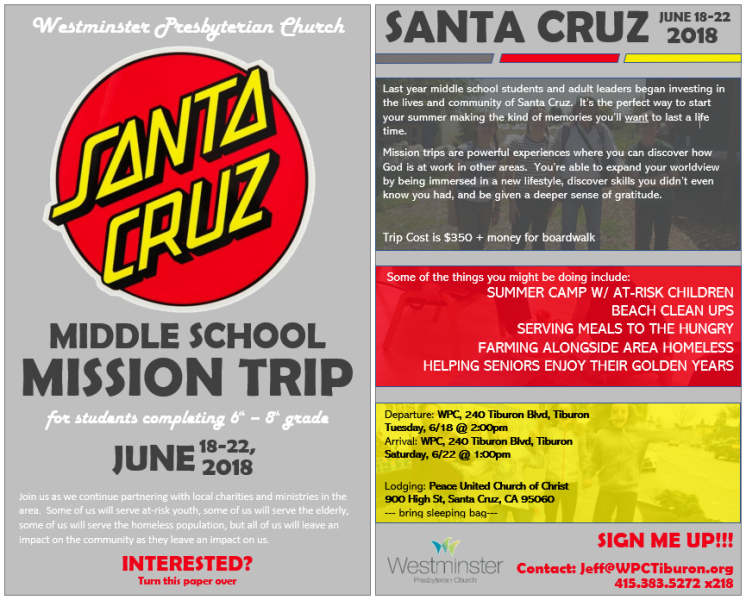 ---
Zephyr Point Family Camp (7/1 – 7/6, 2018) price varies, all ages
Join our very own Rob McClellan at Summer Family Camp Tahoe and start a new Christ-Centered summer tradition. Zephyr Point Family Camp is about recreation, relaxation, fellowship with other families of faith. We do this by providing a stress-free environment, giving the freedom to embrace time set apart for the purpose of regrouping the family unit and enjoying a purpose-filled vacation with one another. Rob will be the chaplain at this year's camp and hopes to see you there. For more information visit: http://www.zephyrpoint.org/programs/family/summer-family-camp/
---
WPC Youth Takeover of Children's Ministry
What: Moving Forward in Faith Through the Bible (for Kids!)
When: Training and Planning: 4/22, 4/29
Teaching and Facilitating: 5/6, 5/13, 5/20, 5/27
Where: WPC, Sunday School
Who: Middle and High School students and leaders
Our current campaign to raise much needed renovations and expansions, Westminster 2020: Forward in Faith, has not only garnered the excited interest of our adults but also our young people who would be those most affected by a fulfilled campaign. Opportunities like this don't come around very often so we wanted to be sure our youth were given an opportunity to take some ownership over a campaign that affects them greatly.
The church as a whole (Including you!) are invited to a series of 4 Bible studies to explore together what happens when communities move "forward in faith." We will journey with those before us in The Exodus, Nehemiah, Acts/Early Church, and Hebrews 11 during the month of June. Over the month of May the youth will be leading our children's Sunday school through those same faith movements of those in the Bible being studied by the church as a whole. The youth will facilitate different stations that will immerse our K-5 children in their stories as our youth and children explore what happens when groups move "forward in faith."
Its an exciting opportunity for our high schooler and middle schoolers to grow in their faith and understanding by teaching others. For those of you looking for community service hours, this is a great place to start.
---
Middle School Mission Trip 2017 - Highlights and Video
Each spring we encourage our middle schoolers to participate in a group service project. Last year's trip is highlighted here for you to give you a sense of what it's all about. We'll be providing more information about our 2018 project in the coming weeks.
It's hard to put into written words our experience, if for no other reason that we did different things. While some of us were serving around 100 meals to the homeless alongside our Catholic sisters and brothers, others were working a farm which was run by homeless folks at the Homeless Garden Project. We also worked with seniors and children at other times.
But sometimes our yearning to provide for others lavishly can take on the comical. When the other half of our group arrived at the Boys and Girls Club with 30 pizzas measuring 22" apiece, people asked why so much? Well, if you went to a pizza party in heaven, they're not going to cut you off at one slice?
So while we can't be there everyday for the people we met, we can provide a little slice of abundant life. We live humbly and give lavishly because that's the example Christ left for us. Special thanks to Sharon Terrill and Judi and Mark Sachs for living that life with us for the week. Their example and witness to Santa Cruz and our young people are what make it all possible. Our church is truly grateful for them.
Check out our video from our 2017 trip!